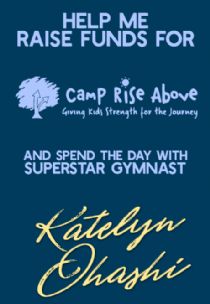 Total raised: $285.00
Fundraising progress based on $500
Club:
Goose Creek Gymnastics
Hobbies:
Gymnastic, sewing, art & crafts, and baking
Favorite School Subject:
Language Arts, Math, Science, and History
Favorite Food:
Salad, raisins, strawberries, honeydew melons, watermelons, Oreo's , and Girl Scout cookies
Favorite Athlete:
Katelyn Ohashi, Simone Biles, Suni Lee, and Morgan Hurd
My fundraising message:
Hi friends and family! My gym, Goose Creek Gymnastic, is hosting a fundraiser for Camp Rise Above. Camp Rise Above provides life-changing camp experiences to children with serious illnesses, disabilities and challenges. They create customized programs that teach campers to overcome obstacles and grow in their confidence and capabilities. As an incentive to the fundraiser I will have the opportunity to meet one of my favorite gymnast, Katelyn Ohashi!!!! Please help me support the children with Camp Rise Above and meet Katelyn Ohashi. Jada A. Brown
Watch my fundraising video here.Prizes won:
Goals With Katelyn, A Spot In The Katelyn Handstand Contest, The Katelyn Ohashi Writing Challenge!, A Spot In The Katelyn Handstand Contest
Support Jada & Camp Rise Above!
Donate On-Line:
If you donate $215, Jada wins a full-color poster of UCLA's "Perfect 10" Katelyn Ohashi!